Teledentistry
Sun Life dental PPO members now have access to 24/7 virtual dental visits through Teledentistry.com.
1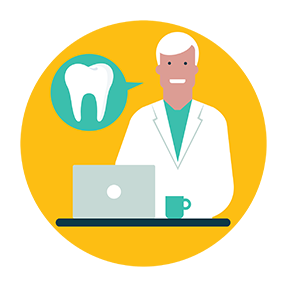 Use Teledentistry.com – Virtual Dental Visits when you:
Are having a dental emergency and do not have a dentist
Need access to a dentist after hours and your dentist is not available
Need to consult a dentist without leaving home, or while traveling and your dentist is not available
Teledentistry is already included in your existing dental coverage and may count as one oral evaluation under your plan.2
Teledentistry.com is meant to supplement your current dental plan and should be used after business hours, on holidays and weekends, or when experiencing a dental emergency and your regular dentist is not available.
1 Teledentistry.com services are only available to members covered under dental PPO plans issued or administered by Sun Life Assurance Company of Canada or, in New York, dental PPO coverage issued or administered by Sun Life and Health Insurance Company (U.S.) who have access to: the Sun Life Dental Network, Sun Life Focus Dental Network, Assurant Dental Network or Assurant Focus Dental Network.. Members covered under a prepaid or indemnity dental plan are not eligible for services through Teledentistry.com. Only available where permitted by applicable law. Teledentistry services may not be available in all states. Virtual appointment services are provided directly by Teledentistry.com. To receive services, members must establish an account directly with Teledentistry.com. See teledentistry.com/privacy-policy/ to review Teledentistry's Account Terms and Privacy Policy. Sun Life's dental networks include dentists contracted with Dental Health Alliance, L.L.C.® (D.H.A.®) and dentists under access arrangements with other dental networks. In all states except New York, group dental insurance policies are underwritten by Sun Life Assurance Company of Canada (Wellesley Hills, MA) (SLOC) or by Union Security Insurance Company (USIC) (Kansas City, MO) and administered by SLOC. In New York, group dental insurance policies are underwritten by Sun Life and Health Insurance Company (U.S.) (Lansing, MI) (SLHIC) or by Union Security Life Insurance Company of New York (Fayetteville, NY) and administered by SLHIC.
2 TeleDentistry.com services are only available to current Sun Life dental members. A TeleDentistry.com consultation may count as a problem-focused exam (D0140) under your dental plan. Plans contain limitations and exclusions. Coverage for exams may be subject to frequency limitations. Please review your applicable coverage. E-prescriptions are not available internationally. Teledentistry.com will not prescribe controlled substances. Plans issued or administered by Sun Life contain limitations and exclusions and do not cover prescription medication.